Guest Room Introduction
Guest Room Introduction【All rooms are ocean-view】
Ocean-view Standard Twin Room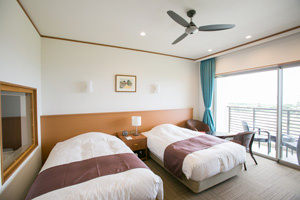 This is the type most suitable for 2 guests.
Being able to enjoy emerald sea and Mt.Yae islands view.
Relaxed ocean-view room, brown color based space is full of southland atmosphere.
You are welcomed to enjoy your time at this island.
Ocean-view Standard Twin Room(with loft)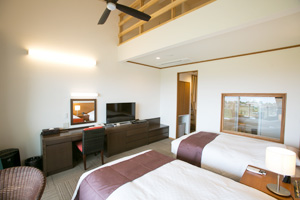 In this 32m² guest room with 13m² loft, you can fully view emerald sea, blue sky and red-tile houses.
It can be comfortably capable for 5, being suitable for trip with friends and family.
Please enjoy your relaxed time in this wide space.
Ocean-view Deluxe Twin Room(with loft)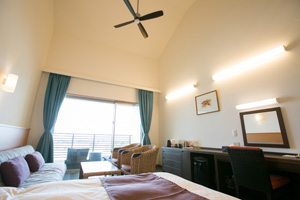 A 44m² guest room is strongly recommended for family and partners!
Ishigaki Island's scenery can easily be viewed through the window, please enjoy your leisure time on the island.